Yes, I'm a nerd.  I like to blog. Obvi.
Imagine my enthusiasm when I introduced blogging today to my students.  I decided over the summer to create our own class website slash blog slash wiki.  The wiki stuff will come later.  I wanted to get them blogging as soon as humanly possible.  But as usual, back to the beginning of my hour.
For their warm up, I had them read a Scholastic Action magazine.  Now, if you've never used Scholastic magazines in your classroom, especially with students who lack the motivation to read, I highly recommend them! They are absolutely wonderful.  Today they were asked to read an article about a girl who used a robot to go to school because of a severe food allergy.  At the end of the reading, there was a short, multiple choice quiz based on the article.  We went over the answers as a class and the kids did very well.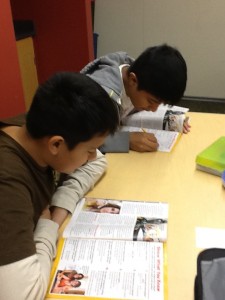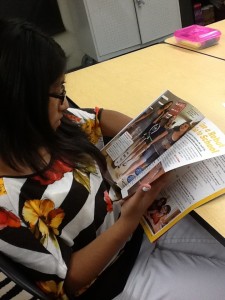 For those students that finished early, they were able to read the other articles, which had a ton of interesting stuff.
Ok, so onto our daily objective:  blogging.  I started off by asking them if they've heard of blogs or blogging before.  One student said they thought they heard of it.  Before I explained how we'd be blogging in our classroom, I showed them this awesome Common Craft video, called Blogs in Plain English, that explains what blogging is…in plain English.  (*side note: Common Craft is outstanding at explaining things via drawings.  Their videos are short, but give you all the information you need about several different topics. Check them out!)  Once the video was over, we recapped the video as a class and clarified once more what blogging was.  I explained we were going to blog as a class, sharing ideas with each other and commenting on each other's posts.  I then showed them different examples online of classroom blogs and what kinds of things they wrote about.  Hopefully*, if all goes well, we can collaborate with another school's class blog and comment on each other's posts.  Ooooh, I'm getting all clappy and squealy just thinking about it! 😀  (*keep your fingers crossed!)
So before we dived full into the blogging world, I wanted them to become a bit more familiar with the concept.  In the hundreds of hours I spent researching over my summer break, I stumbled across this idea from another educator's blog, Notes From McTeach.  As soon I read about their Paper Blog project, I knew right away I wanted to do it.  Basically, the idea is to get the kids to create a "snapshot" of a blog post on paper first.  They can write about any subject they want and decorate their "page" however they want.  I showed the class my own paper blog as a model so they could visualize what the objective was.
I had written my paper blog post on music and how much it has an impact on me.  My post was two paragraphs, just like theirs will be.  As far as the page layout I created, I told them they could use mine as inspiration if they couldn't think of anything.  I even added my social networking share buttons! 🙂  Students, at first, had trouble coming up with something to write about, even though I told them they could write about anything.  When I mentioned some topics (video games, sports, pets, etc.), it got their creative juices flowing and they commenced writing and drawing their rough drafts.
I chose to blog with my students this year because I want them to write more than they did last year, but in a different way that they could find enjoyable.  Blogs can be posted from home, at school, on the laptops, or on their iPads.  It's a great way to mesh perfecting their writing skills (writing, editing, analyzing others' work, commenting) with the technological world we live in today.  Who knows–maybe it might inspire them to continue blogging after they graduate eighth grade. No, no…can't think about them leaving me just yet.  I had these students all last year and will have them all this year.  The thought of them leaving gets me a little misty-eyed.  Because of debris, that is.  I have something in my eye, is all…